On Tuesday, as we watched Black Power Mixtape, Questlove and Harry Belafonte mentioned King's radicalism and critique of militarism and inequality. Here's MLK, Jr._Beyond Vietnam_A Time to Break Silence his speech, and below the recording.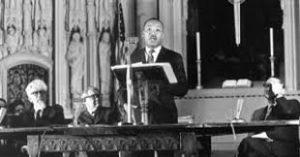 "Beyond Vietnam: A Time to Break Silence" MLK, Jr. 1967
"Mr. Chairman, ladies and gentlemen, I need not pause to say how very delighted I am to be here tonight, and how very delighted I am to see you expressing your concern about the issues that will be discussed tonight by turning out in such large numbers. I also want to say that I consider it a great honor to share this program with Dr. Bennett, Dr. Commager, and Rabbi Heschel, some of the most distinguished leaders and personalities of our nation. And of course it's always good to come back to Riverside Church. Over the last eight years, I have had the privilege of preaching here almost every year in that period, and it's always a rich and rewarding experience to come to this great church and this great pulpit.
I come to this great magnificent house of worship tonight because my conscience leaves me no other choice. I join you in this meeting because I am in deepest agreement with the aims and work of the organization that brought us together, Clergy and Laymen Concerned About Vietnam. The recent statements of your executive committee are the sentiments of my own heart, and I found myself in full accord when I read its opening lines: "A time comes when silence is betrayal." That time has come for us in relation to Vietnam."